GET AN ACCURATE HOME REPAIR ESTIMATE
FROM ANY INSPECTION REPORT IN 24 HRS OR LESS
Fast, accurate, zip code specific pricing for any home inspection repair - 24/7/365 nationwide coverage of the entire US.
Home Repair Estimates for Anyone
Negotiate like a Pro and save thousands during negotiations - instant upload and fast 24 hour turnaround.
Save time and frustration during the negotiation period with the preferred tool for Top Agents.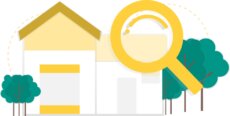 Add value to every inspection by answering one simple question your clients want to know, "How much will that cost to fix?"
NEGOTIATING WITH INSPECTION REPAIR ESTIMATES
We understand that negotiating property prices and repairs after a home inspection can be difficult. You want to get the best possible price on the home you intend to purchase, and you want to make sure you get the essential items taken care of. So, why not work with a leading online home inspection and negotiation service? We created the ultimate home inspection cost calculator to make sure you can negotiate faster and smarter for the repairs you need.

FAST TURNAROUND
Tight deadlines can cause contracts to fall apart, which is why we guarantee that our home inspection cost estimates will be delivered in 24HRS or less. Helping reduce stress and giving you more time to negotiate.
ACCURATE
Knowledge is power, and our zip code-specific pricing gives you a rock-solid tool to use during a negotiation. We offer practical home inspection repair solutions used by top agents across the US.
HUMAN SOFTWARE
We use more than just intelligent software. Every online property inspection report goes through a thorough 3-stage human review process to make sure we're right on the money.
Frequently Asked Questions:
Get A Sample Repair Estimate Report Now!