AND WHAT THEY'RE
COSTING YOU…
We did a nationwide deep dive on 50,000 home inspection reports. The analysis identified the 100 most prevalent defects and the current and potential costs associated with fixing them. The study found more than 1 million repairs were needed across 50,000 homes, while the average home required more than $11,000 in repairs.
Want to learn more? Fill out the simple form below to receive a free copy of the full study via email.
Small repair issues today can become big repair costs tomorrow if left unresolved.
Given the prevalence of these defects, and the extent to which they can damage the home, there are a few recommended best practices for homebuyers during the negotiation process and contingency periods.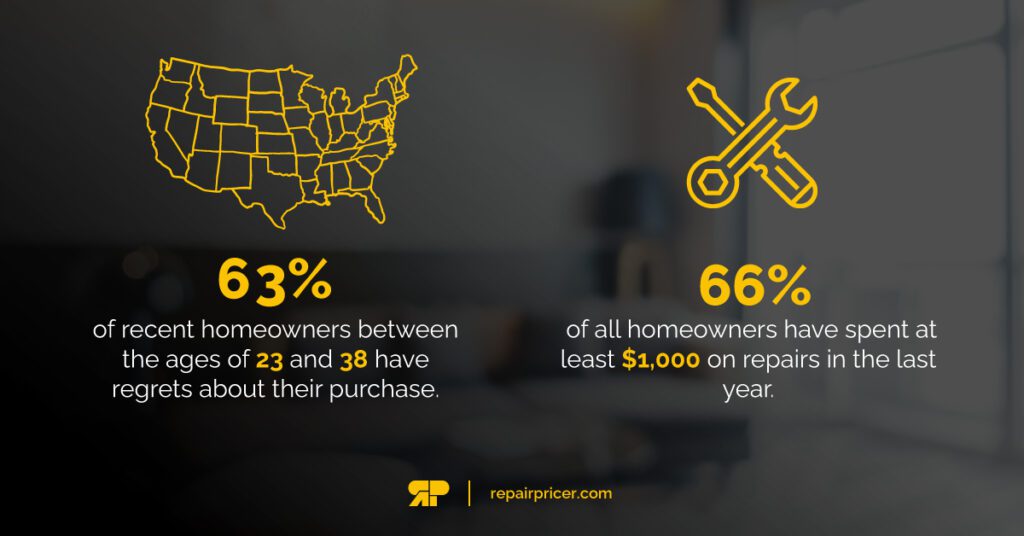 According to data from Hippo Insurance
A significant regret over purchases
In states such as Texas, buyers traditionally have about five to ten days for the due diligence period. But in a lot of cities like Austin, Houston, and Dallas, buyers have been waiving that period because of the high volume of offers on a house, making contracts very difficult to acquire.
The first industry standard for repair estimates
The real estate industry has often suffered from a lack of clear direction in terms of processes for estimating repair costs. This struggle during tight contingency windows led to the foundation of Repair Pricer. Repair Pricer is a service and tool and provides repair estimates with 98% accuracy for realtors, inspectors and their clients during the homebuying process.
Get a copy of the National Report now in just a few clicks