AUTOMATED REQUEST FOR REPAIRS FORM CREATOR
Turn any home inspection report into an accurate request for repairs form
Request for Repairs Form Creator!
What is a request for repair form?
A request for repairs form is typically used by a home buyer as an official request for repairs after home inspections have been completed. They can also be used to request a monetary credit from the home seller. The seller can then either accept, reject or ask for a revision to the request for repairs form as part of the contract. Typically the seller must complete the work specified in the form by a certain date and provide proof that the work has been completed by a professional, licensed contractor. Normally an invoice or copy of a receipt is sufficient, although sometimes a re-inspection by a licensed home inspector may be required. This is different to our service which functions primarily as a repair estimator. 
Is a Repair Pricer report the same as a request for repairs form?
Not exactly – while many of our clients do use our reports as a request for repairs form, they are typically used to help the buyer narrow down the most important and significant home inspection costs, or to calculate exactly how much repair credit the seller should be providing in lieu of repairs. The best thing about our reports is that unlike an inspection report they are not considered a disclosure notice, so there are no legal ramifications of anyone sharing the report with any other party. 
Consider our reports a home inspection checklist that you can freely share with any party.
How do you write a repair request addendum?
Be aware that some states do offer approved promulgated forms to be used as repair request addendums, but they are typically only available through the local board of Realtors. If you're not working with a licensed agent, then best of luck to you, and if you are, ask your Realtor to see if they have one available. Typically however when writing a repair request addendum we advise:
Be as specific as possible about what the issue is, how you want it addressed and what state it should be in by the time the work is done. 

Be clear about who you want to complete the work – will you pick the contractor or the seller? Will that person be licensed and provide a warranty on their work?

Have a specific date and time by when repairs must be done and proof provided. Be specific and state clearly that receipts for all work must be provided. 

If possible have the SAME home inspector revisit the property and inspect the repairs to make sure they were done properly. Most inspectors will charge a reduced fee for this if it's just something small/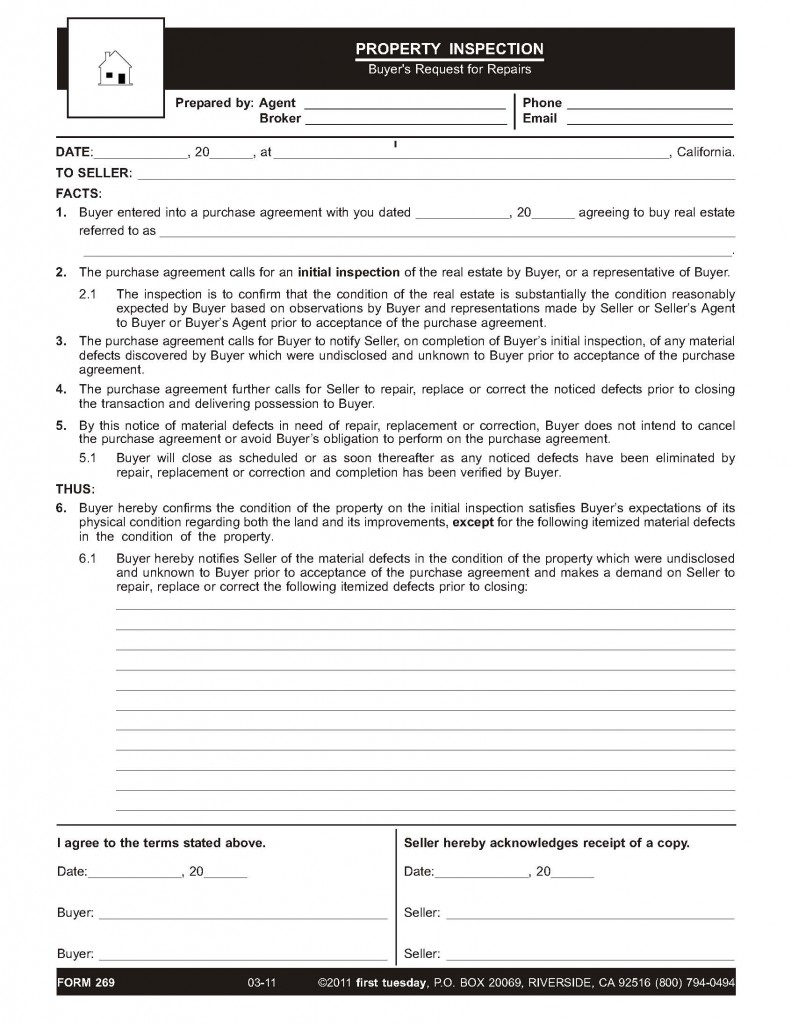 Amazing job at getting repair quotes on my inspection, your service provided me with the information I needed to proceed with the purchase of my new home in an informed way and ask for the repairs or lowering the price based on doing the repairs myself. Thank you a very good investment"
Reasons To Use
Repair Pricer
Reasons to use repair pricer
what our customers have to say...
"What a great surprise to instantly have estimates for my repairs. Saved hours of calling and meeting service persons."
"Super fast and reliable! This is the most amazing service and takes tons of stress off your shoulders!"
"I received my report in a very rapid manner. The estimate details allowed me to effectively negotiate my home purchase repairs."
"This was very useful information to us in final price negotiations for buying the property. We also really appreciated how quickly the report arrived."
"This made our negotiations with the seller so much easier !"
Negotiate your home price like a PRO